Bound by Magic: infos and gameplay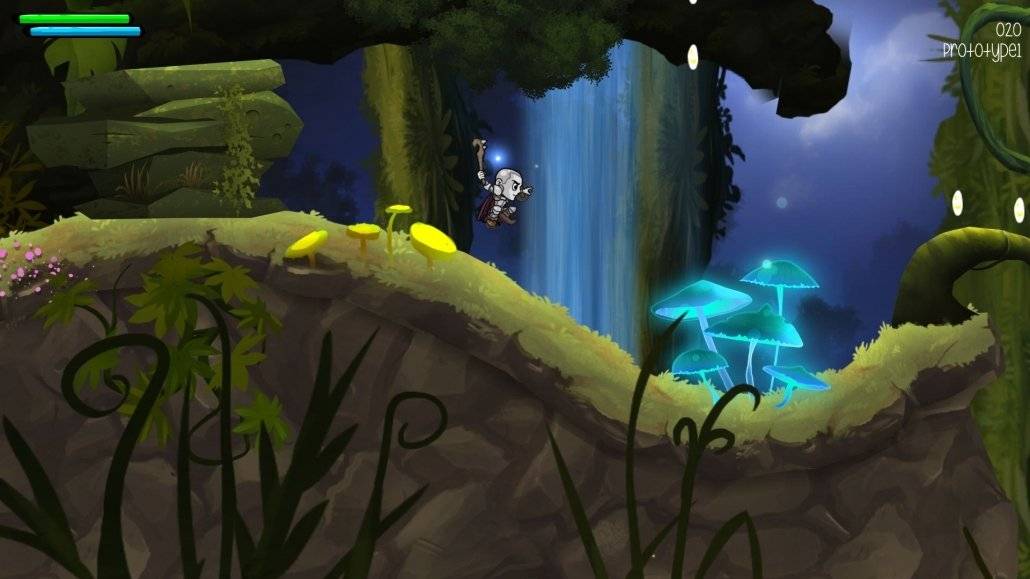 Check out this first VLOG about the game Bound by Magic. We are talking about many important stuff, like game mechanics and features, story, who we are, why do we make this game and so on and so forth. We even show off some nice gameplay footage from our early alpha proof of concept prototype version. Give it a try and watch the video. Also, check out the outtakes at the end of the video. They are hilarious!
Some additional words on xSheetGames:
xSheetGames is actually not created for this game. Sebastian, a friend of mine and me founded it some years ago to release our firstborn, the mobile game Dracoo the Dragon. We made some other mobile games as well, like a memory clone for childs and a 2d top-down platformer called Jelly. But, you know. Time has passed, our passion for creating games has evolved from mobile to "real" games. And now, we work again under the name xSheetGames to make exactly this. There are 6 active members in our team, working on Bound by Magic. xSheetGames is just the label, the brand if you like. We are not organised as a company or something, it is more like a term that connects the individuals, to form a strong team.
On evey team, distinct roles are a good way to know who is responsible for what. But on a team as small as ours, with such a workload ahead, everybody sometimes works in "foreign" fields of work, of course.
Some additional words on the graphics:
We use the Brasmonkey Spriter character animations for now, at least until we come up with some own character designs and animations. But in the meantime, we plan on making the current animations our own by scaling, adding details like hats, hair, beards and color, and other things similar to that. If time is left, we know just the right guys to invent and draw some cute and funny characters. One of these guys is already a member of this team. Harald. But his time is rare and very valuable to us. So, he needs to focus on more important things for now. A second graphical genius, Sebastian, is a dormant teammember of ours. A great animator and character designer. If we, some day, get funding, we may hire his services again.
Which target platforms are we developing for?
We aim for steam and gog as target platforms. OS X, Linux and Windows.
But since we use the Unity3d Engine, porting it to other platforms should be not that big of a problem.
Some words on the story snippets, Peezn is talking about:
The narrative is more dense and the plot is deeper than you come to think after this video. It gives you a wrong impression. We just don't want to spoil everything, so it sounds like the average boring "go solve the problem" kinda tale. Just try it when we are ready and watch it unfold in front of you.
Some thoughts on eastereggs:
Eastereggs are a great way to deliver to the attentive player and give them even more fun and bang for their buck. So there are going to be plenty in our game, since we love finding them in other games as well. Pop culture references for the win. Some will trigger off achievements, others won't. So, be prepared.
Last words about the production quality:
So, as you probably already have seen: shooting, cutting and editing videos is not precisely what you would call our core ability. The light, the camera angle, our english grammar and many more things are in dire need of improvement most of the time. But, after all, we are not here to make the best video possible. We are here to make a great game and we want you to know about it. And I am shure, we were able to deliver this message to you all.
Have a great day,
Mike / xSheetGames
Last modified onWednesday, 14 October 2020 14:29

...is a software developer (focus on App/Webdev, UX/UI, IoT) located in Lower Austria.  When he is not working on new app ideas, web applications or game designs, he teaches webdevelopment at the university of applied sciences St. Pölten. In his spare time he usually plays and streams videogames, tinkers with various webdev tools, does some sports, is making music with cubase and his electric guitar or hitting the fields with his cam. Since 2010, he is certified business administrator for applied computer science, in October 2020 he achieved his Master of Sciences (M.Sc.) degree in "Web and Mobile Media Design" at the Danube University Krems.
Email

This email address is being protected from spambots. You need JavaScript enabled to view it.