Radventure - 2d Pixelart Platformer with Unity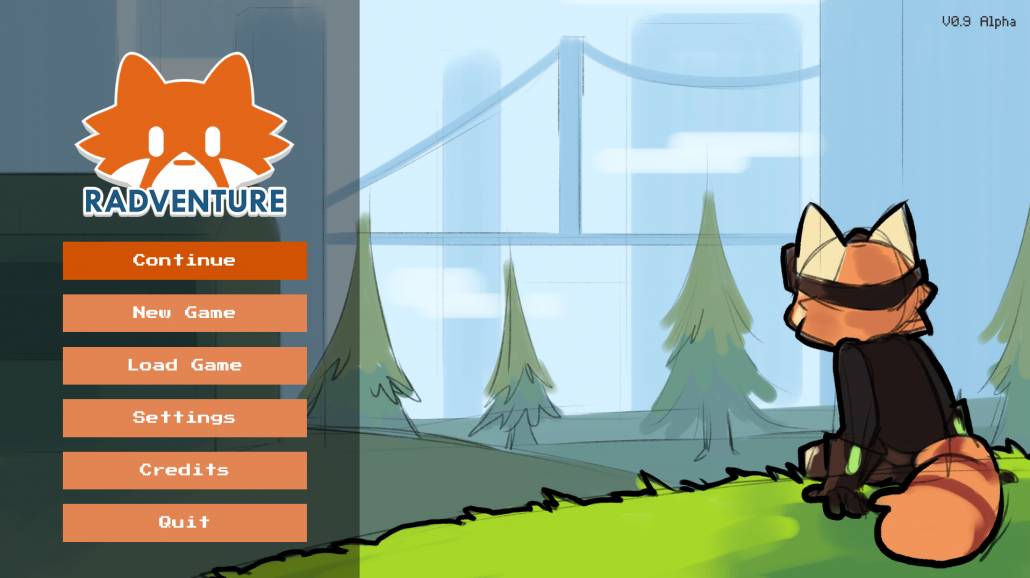 In February of 2018, I decided that firstly I want to work more with Unity, secondly I want to share my knowledge about game design and thirdly I haven't worked enought with them students of mine. :D I concluded these thoughts with the idea to create a new Unity game with a bunch of interested students. Found the right people right away. As things turned out, many of them are stupid talentet and possess an unbelievable good basic knowledge about game mechanics. Motivationwise, there is work to be done tho.
After some meetings and hitting our think tank, we came to the decision our game should be a tile based platformer with a story arc revolving around technologised animals. The single levels should be held together by Mario or Rayman Origins-esque overworlds wich concludes in a bossfight each. Our title is Radventure and our main character is a red panda called "Rad". :D The player expands his skillset through milestones within the game's world, where he gets upgrades and new abilities. The battle system should feature melee as well as ranged attacks. Because we only work on this in our spare time, the planned project duration will be rather long and the primary goal is to create a runable demo and learn something about game design.

I've chosen some tools t organize ourselves at the projects beginning:
Game Design Document: We crafted and maintained a comprehensive GDD with every piece of our vision inside. Game mechanics, story, controls, art decisions, game design decisions, project roles, ...
Meeting Records 
Discord: Its where all of our communication takes place. We separated channels about different topics and one can write or organize a audio meeting there.
Trello: Our ticketing system and our knowledge base.
Git / Gitlab: The git origin where our Unity sourcecode with its history and versions lives
Google Drive: The place for our art departements project files like photoshop or illustrator files. The reason is, that there is not one single place where these are saved. Avoidance of single points of failure. Exported graphic and audio assets lie there alongside our artwork doodles and exported binaries for prototype testing.

The project team, at the moment of writing this, consists of: 
Gabs, Mimi, Oli, Wuki, Pat, Mike
Last modified onThursday, 28 March 2019 12:18

...is a software developer (focus on App/Webdev, UX/UI, IoT) located in Lower Austria.  When he is not working on new app ideas, web applications or game designs, he teaches webdevelopment at the university of applied sciences St. Pölten. In his spare time he usually plays and streams videogames, tinkers with various webdev tools, does some sports, is making music with cubase and his electric guitar or hitting the fields with his cam. Since 2010, he is certified business administrator for applied computer science, in October 2020 he achieved his Master of Sciences (M.Sc.) degree in "Web and Mobile Media Design" at the Danube University Krems.
Email

This email address is being protected from spambots. You need JavaScript enabled to view it.