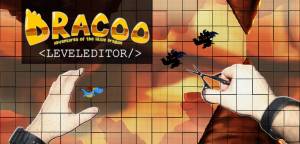 Already since march 2013, our free of charge download game Dracoo the Dragon awaits you in Googles Play store. Now, we are planning on releasing him on iOS/iPhone/iPad as well. I took this opportunity to explain the level editor in more detail. After all, it is public and free accessible and we treated it shabbily after the release. We did not talk about it very much. In fact, we did not talk about it at all I guess. It is quite simple to understand and equally simple to operate. One creates a new level with a certain levelpack online, pushes it to the game server and trys it out in the very instant, still being in the browser. Maybe some of you want to distribute a new and challanging level for Dracoo the Dragon yourself. Or you just play around a little while and get comfortable with the editor.
If you send me some nice levels in JSON format, I will probably set myself to work and review your levels, pack them in a new and free Dracoo community edition or just add them to the existing levels within the actual game. Given they provide our high quality standard.
It would give me great pleasure, if you grapple with the editor and the game itself. The game is created to be played and to have fun with eventually.
So, enough said. How to create a level?
Read more...